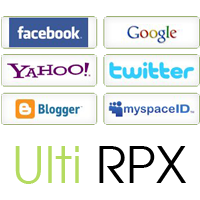 After quit some delay, here is the new version of Ulti RPX. We had to add a plugin to the extension and so it took more time then expected. You will notice that some of the module parameters have movd to the plugin. Here is an overview of the changes:
Redirection after login has been fixed.
No refresh needed any more to show the content for registered users.
Dummy mail addresses are no longer @ultijoomla.com. The domain of the site that uses ulti rpx is used in stead.
Option added to use only dummy mail addresses, or to import the real mail address if possible.
Ulti RPX 2.1.0 is now available for download in the download section.

TrackBack URI for this entry
Comments
(57)

Subscribe to this comment's feed
Write comment
---