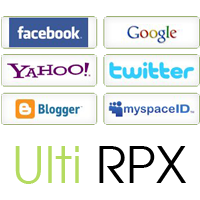 Another new version of Ulti RPX has been released. This contains some important bugfixes.
Ulti RPX 1.0.2 is now available for download in the download section.
The bugfixes are:
normal login form did not work with Joomla 1.5.15
rpx parameters are in some cases passed as post parameters and this did not work with Ulti RPX
Important:
Upgrade Joomla to the latest version to use this module.

TrackBack URI for this entry
Comments
(0)

Subscribe to this comment's feed
Write comment
---